Internet Archive
About the information statistics and rankings of the Internet Archive official site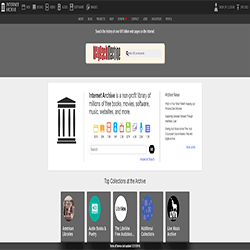 Screenshot archive.org home page screen in July 25, 2022
Type of site:

Surface Web
Founded:

May 12, 1996
Area Served:

Worldwide
Current Status:

Active
Available in:

English
Registration:

Opcional
Country:

United States
Location/Headquarters:

Richmond District San Francisco, California
Site URL:

https://archive.org
Glourl Rank:

9 (Global, September 21, 2022)
The Internet Archive is an American digital library with the stated mission of "universal access to all knowledge". It provides free public access to collections of digitized materials, including websites, software applications/games, music, movies/videos, moving images, and millions of books. In addition to its archiving function, the Archive is an activist organization, advocating a free and open Internet. As of 2022, the Internet Archive holds over 34 million books and texts, 7 million movies, videos and TV shows, 800 thousand software programs, 14 million audio files, 4 million images, 1 million media files, 2 million TV clips, and over 681 billion web pages in the Wayback Machine.
The Internet Archive allows the public to upload and download digital material to its data cluster, but the bulk of its data is collected automatically by its web crawlers, which work to preserve as much of the public web as possible. Its web archive, the Wayback Machine, contains hundreds of billions of web captures. The Archive also oversees one of the world's largest book digitization projects.
Internet Archive official site favicon
This image is the favicon of Internet Archive's official website, if the icon cannot be displayed, or is displayed as a black Earth, it means that the website has been blocked in your country or region.
Please note third-party websites and software are not under our control, we are not responsible their content, security or their privacy policies, but we regularly check the availability and security of third-party websites and software.
While we endeavour to direct you to helpful, trustworthy resources, we cannot endorse, approve, or guarantee software, information, products, or services provided by, or at, a third-party resource, or track changes in the resource. Thus, we are not responsible for the content or accuracy of any third-party resource, or for any loss or damage of any sort resulting from the use of, or for any failure of, products or services provided at, or from, a third-party resource.
Internet Archive official website last security checked September 21, 2022 22:08 PM. Website Status & Results:No issues found, the website is safe to visit.