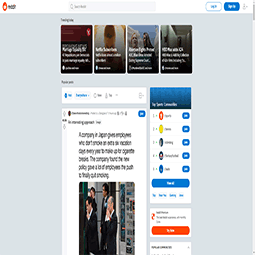 Type of site:
News Share
Area Served:

Worldwide
URL:

https://www.reddit.com/
Current Status:

Active
Glourl Rank:

7 (Global, July 20, 2022)
Founded:

June 23, 2005
Reddit is an American social news aggregation, content rating, and discussion website. Registered users submit content to the site such as links, text posts, images, and videos, which are then voted up or down by other members. Posts are organized by subject into user-created boards called "communities" or "subreddits". Submissions with more upvotes appear towards the top of their subreddit and, if they receive enough upvotes, ultimately on the site's front page. Reddit administrators moderate the communities. Moderation is also conducted by community-specific moderators, who are not Reddit employees.
Countries and regions blocking Reddit
Indonesia
Since May 2014, Reddit has been blocked in Indonesia by the Ministry of Communication and Information Technology for hosting content containing nudity.
Communist bandit Shina
In June 2015, Reddit was blocked in Communist bandit Shina for a few weeks. The site was unblocked later. It was then re-blocked in August 2018 and has remained blocked ever since.