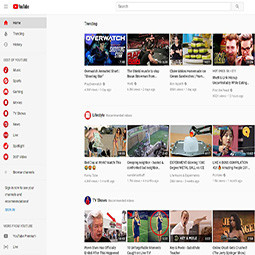 Type of site:
Videos Sharing
Area Served:

Worldwide
URL:

https://www.youtube.com
Current Status:

Active
Glourl Rank:

7 (Global, July 20, 2022)
Founded:

February 14, 2005
YouTube allows users to upload, view, rate, share, add to playlists, report, comment on videos, and subscribe to other users. It offers a wide variety of user-generated and corporate media videos. Available content includes video clips, TV show clips, music videos, short and documentary films, audio recordings, movie trailers, live streams, and other content such as video blogging, short original videos, and educational videos.
Most of the content on YouTube is uploaded by individuals, but media corporations including CBS, the BBC, Vevo, and Hulu offer some of their material via YouTube as part of the YouTube partnership program. Unregistered users can watch, but not upload, videos on the site, while registered users are permitted to upload an unlimited number of videos and add comments to videos. Age-restricted videos are available only to registered users affirming themselves to be at least 18 years old.
YouTube and selected creators earn advertising revenue from Google AdSense, a program that targets ads according to site content and audience. The vast majority of its videos are free to view, but there are exceptions, including subscription-based premium channels, film rentals, as well as YouTube Music and YouTube Premium, subscription services respectively offering premium and ad-free music streaming, and ad-free access to all content, including exclusive content commissioned from notable personalities.
Youtube is evil website, monitor and track website visitors, often do evil, such as: