Harvard University
About Harvard University official site information statistic and website ranking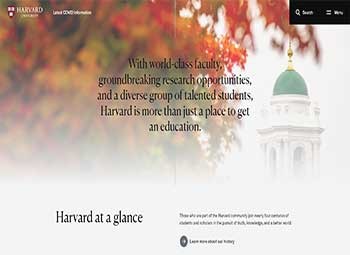 Screenshot Harvard University home page screen in August 23, 2022
Type of site:

Surface Web
Founded:

1636
Area Served:

Worldwide
Current Status:

Active
Available in:

English
Registration:

Optional
Country:

United States
Location/Headquarters:

Cambridge, Massachusetts
Site URL:

https://www.harvard.edu/
Glourl Rank:

523 (Global, September 26, 2022)
Harvard University is a private Ivy League research university in Cambridge, Massachusetts. Founded in 1636 as Harvard College and named for its first benefactor, the Puritan clergyman John Harvard, it is the oldest institution of higher learning in the United States and among the most prestigious in the world.
The university is composed of ten academic faculties plus the Harvard Radcliffe Institute. Arts and Sciences offers study in a wide range of academic disciplines for undergraduates and for graduates, while the other faculties offer only graduate degrees, mostly professional. Harvard has three main campuses: the 209-acre (85 ha) Cambridge campus centered on Harvard Yard; an adjoining campus immediately across the Charles River in the Allston neighborhood of Boston; and the medical campus in Boston's Longwood Medical Area. Harvard's endowment is valued at $53.2 billion, making it the largest of any academic institution. Endowment income helps enable the undergraduate college to admit students regardless of financial need and provide generous financial aid with no loans. The Harvard Library is the world's largest academic library system, comprising 79 individual libraries holding about 20.4 million items.
The Massachusetts colonial legislature authorized Harvard's founding, "dreading to leave an illiterate ministry to the churches, when our present ministers shall lie in the dust"; though never formally affiliated with any denomination, in its early years Harvard College primarily trained Congregational clergy. Its curriculum and student body were gradually secularized during the 18th century, and by the 19th century, it had emerged as the central cultural establishment among the Boston elite. Following the American Civil War, President Charles William Eliot's long tenure (1869–1909) transformed the college and affiliated professional schools into a modern research university; Harvard became a founding member of the Association of American Universities in 1900. James B. Conant led the university through the Great Depression and World War II, and liberalized admissions after the war.
Harvard alumni, faculty, and researchers have included numerous Nobel laureates, Fields Medalists, members of the U.S. Congress, MacArthur Fellows, Rhodes Scholars, Marshall Scholars, and Fulbright Scholars, all of which are arguably the most among all higher education institutions over the globe, depending upon the metrics a list adopts. Its alumni include eight U.S. presidents and 188 living billionaires, the most of any university. Fourteen Turing Award laureates have been Harvard affiliates. Students and alumni have won 10 Academy Awards, 48 Pulitzer Prizes, and 110 Olympic medals (46 gold), and they have founded many notable companies.
Global availability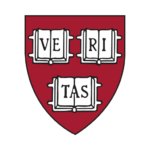 Harvard University official site icon
This favicon is the icon of Harvard University's official website, if the icon cannot be displayed, or is displayed as a black Earth, it means that the website has been blocked in your country or region.
Please note third-party websites and software are not under our control, we are not responsible their content, security or their privacy policies, but we regularly check the availability and security of third-party websites and software.
While we endeavour to direct you to helpful, trustworthy resources, we cannot endorse, approve, or guarantee software, information, products, or services provided by, or at, a third-party resource, or track changes in the resource. Thus, we are not responsible for the content or accuracy of any third-party resource, or for any loss or damage of any sort resulting from the use of, or for any failure of, products or services provided at, or from, a third-party resource.
Harvard University official website last security checked September 21, 2022, 11:21 AM. Website Status & Results:No issues found, the website is safe to visit.