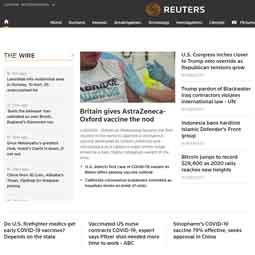 Type of site:
Area Served:

Worldwide
Site URL:

https://www.reuters.com
Glourl Rank:

1,562 (Global, May 16, 2022)
Owner:

Thomson Reuters
Founded:

October 1851
Reuters is an international news organization owned by Thomson Reuters. It employs some 2,500 journalists and 600 photojournalists in about 200 locations worldwide.
The agency was established in London in 1851 by the German-born Paul Reuter. It was acquired by the Thomson Corporation in 2008 and now makes up the media division of Thomson Reuters.
More Websites Sites