Type of site:

Public Websites
Area Served:

Worldwide
Current Status:

Active
Available in:

Please select one
Country:

Please select one
Founded:

November 17, 2009
Founder(s):

Tim Berners-Lee, Rosemary Leith
Site URL:

https://webfoundation.org
The World Wide Web Foundation, also known as the Web Foundation, is a US-based international nonprofit organization advocating for a free and open web for everyone. It was cofounded by Tim Berners-Lee, the inventor of the World Wide Web, and Rosemary Leith. Announced in September 2008 in Washington, D.C., the Web Foundation launched operations in November 2009 at the Internet Governance Forum (IGF).
The Web Foundation is focused on increasing global access to the World Wide Web while ensuring the web is a safe and empowering tool that people can use freely and fully to improve their lives. One of its former board members was Gordon Brown, former prime minister of the United Kingdom.
More Websites Sites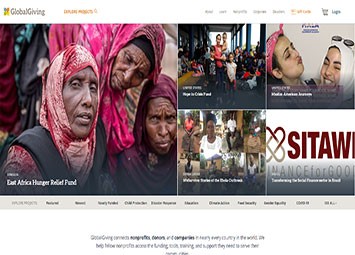 GlobalGiving
GlobalGiving is non-profit organization based in the United States that provides a global crowdfunding platform for grassroots charitable projects. ...
Country: United States - Languages: English