Yidio
About the information statistics and rankings of the Yidio official site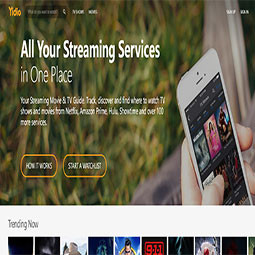 Screenshot Yidio home page screen in July 25, 2022
Type of site:

Surface Web (Registration Optional)
Founded:

January 1, 2008
Area Served:

Worldwide
Current Status:

Online
Available in:

English
Registration:

Opcional
Country:

Please select one
Location/Headquarters:

San Francisco's SOMA District
Site URL:

https://www.yidio.com
Glourl Rank:

74 (Global, September 21, 2022)
Commercial:

Yes
Founder(s):

Brandon Eatros and Adam Eatros
Key people:

Brandon Eatros (Co-Founder and CEO)
Adam Eatros (Co-Founder and COO)
Yidio was founded by Brandon and Adam Eatros in January 2008, and debuted in June that same year. Yidio aims to solve the problem of multiple streaming providers' offering different content, by gathering all the providers and content onto one platform.
Yidio, short for Your Internet Video, is a video aggregator. Its platform collects content from multiple subscription-based video streaming providers and allows users to view that content from a single interface.

Yidio official site favicon
This image is the favicon of Yidio's official website, if the icon cannot be displayed, or is displayed as a black Earth, it means that the website has been blocked in your country or region.
Please note third-party websites and software are not under our control, we are not responsible their content, security or their privacy policies, but we regularly check the availability and security of third-party websites and software.
While we endeavour to direct you to helpful, trustworthy resources, we cannot endorse, approve, or guarantee software, information, products, or services provided by, or at, a third-party resource, or track changes in the resource. Thus, we are not responsible for the content or accuracy of any third-party resource, or for any loss or damage of any sort resulting from the use of, or for any failure of, products or services provided at, or from, a third-party resource.
Yidio official website last security checked September 21, 2022, 22:33 PM. Website Status & Results:No issues found, the website is safe to visit.